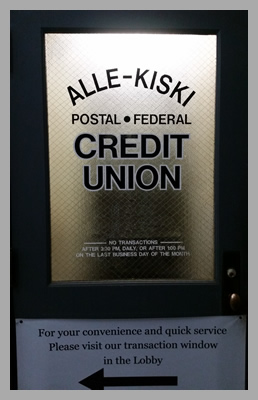 The Allegheny Kiski Postal Federal Credit Union was originally founded in 1953 to provide service for New Kensington Postal workers. Although our membership has grown to over 2500 members, we still retain original members. We are now able to provide services to those who live, work, worship,or attend school in, and businesses and other legal entities in Natrona, Arnold, New Kensington, Tarentum, and also the following groups:
The Post Office
Accessible Home Automations, LLC.
A-K Valley Chiropractic in New Kensington or Lower Burrell
Allegheny Kiski Health Foundation
Allegheny Ophthalmology Associates
Allegheny Valley Association of Churches
Allegheny Valley Chamber of Commerce in Brackenridge
Allegheny Valley Church of God
Alle-Kiski Pavilion
Alle-Kiski Valley Senior Citizens Center, Inc.
American Telephone and Telegraph Company, and Bell Atlantic and any company derived from these companies, provided each company included is specifically named below within 120 days of its incorporation, who work in areas served by area code 412 or 724
Any employee working at a new car dealership in the Greater Pittsburgh area whose employer belongs to the Greater Pittsburgh Automobile Dealers Association.
Babinsack's Sweepers
Banning Industries
Bevan Walley Shepard Insurance
Bonfire Restaurant
Brackenridge Borough employees
Citizens Ambulatory Care Center
Citizens Family Health Clinic
City of Arnold employees
Collection Service Center employees
Comcast New Kensington Branch employees
Cool Breeze Tanning, LLC
Coury Salvage
Creighton Medical
Custom Auto Body Collision Center
D and M Fitness
Dan Hogan Construction
Darius Saghafi
Demchsin Construction who work in Monroeville
Distinctive Painting Company
E.L . Smith Construction
East Deer Borough employees
Employees of AARP Senior Community Service Employment Program who work in New Kensington
Employees of AARP Senior Communtiy Service Employment Program who work in Pittsburgh, PA
Employees of Citizens General Enterprises, Inc., who work in or are paid from New Kensington, PA
Employees of Dialysis Clinic, Inc., who work in Monroeville or New Kensington, PA
Employees of State Farm Insurance who work in New Kensington
Employees of the Little Shop located in Citizens General Hospital
Employees, doctors and medical staff, technicians and volunteers who work at Citizens General Hospital
General Waterworks Company who work in Natrona Heights
Gordon Vaughan Trucking
Harrison Hi-Rise Tenant Council in Natrona Heights
Harrison Township employees
Harvest Baptist Church
Highland Tires
Industrial Terminal Systems employees
J.F. Burns Machine Co., Inc.
J.K. Hydraulics, Inc.
Jack's Ford, Inc.
Jacques and Jacques, P.C.
Jim's Auto Repair
JM Fab, Freeport
Junior's Automotive & Truck Accessories
Key Lincoln-Mercury in New Kensington
Kiski Valley Water Pollution Authority
Lower Burrell employees
Markim Restaurant, dba Phillippi's Family Dining and Pizzeria
McDonald's employees of the Natrona Heights Location
Members and Employees of the New Kensington Area/Northern Westmoreland Chamber of Commerce
Members of Natrona Comes Together
Miown Enterprises
Morabito Motors Inc.
Motorcycle Emporium, Inc.,
Nazz Amusements
New Ken Steel employees
New Kensington Rotary Club
Nixon Mine Cable Suppy, Inc.
O'Neill Financial Services, Inc.
Oakmont Borough employees
Oakmont Water employees
Paula's Personal Touch
Penn Data Services, Inc.
Peoples Library in New Kensington
Pine Hollow Springs II
Quality Machine Products
Ram Terminals, Inc. who work in Norfolk, Virginia
River Forest Country Club
Ron Strobel Flooring, Inc.
Ruben Johnson
Saw and Machine Services, Ltd.
Sevic Landscape and Supply
Shumaker Farms
Signalgraph Security, Inc.
Site Signatures employees
Smithco Self Storage
Springdale Borough employees
Students enrolled in a program leading to a degree in the Citizens General Hospital School of Nursing
Tarentum Borough employees
The Roundhouse
Thomas Pleza General Contracting
United Physicians, Inc.
Upper Allegheny Joint Water Authority
Upper Burrell Township employees
Valley Eye Associates
Vandergrift Borough employees
Vento Maintenance Services
Verifast
Whitaker Corporation
Wolfie's Pizza Hearth Inc.
Staff:
| | |
| --- | --- |
| Liz Ellwood | CEO |
| Maura Stone | Administrative Assistant |
| Maureen Wheeler | Administrative Assistant |
| Mikayla Sanchez | Administrative Assistant |
| Jacki Wolfe | Administrative Assistant |
| Amana Briggs | Administrative Assistant |
| | |